Dear all, I hope you all had a lovely and restful Easter break.
It's been a mad start to Term 2 – in a good way and students have got stuck into the new Performing Arts Programme with effort and enthusiasm. I am very excited to be starting rehearsals for the School Concert that will be in August- watch this space for more information and 5/6 rehearsals!
Foundation
Foundation have started learning about fairytales. They have been exposed to some puppet theatre and learnt a few songs from Little Red Riding Hood (Ask students to sing a song about how much Little Red Riding Hood loves red)! They have also done rhythms to Jack and the Beanstalk and will be learning African Folk Tale son the djembe drum.
Years 1&2
I will be taking years 1&2 round the world this term as they listen and play world Music. Students have learnt some information about African drumming and djembes as well as learning a famous South African song Toom Bah Ee lero. Get ready to visit Australia, Ireland, Italy, Jamaica…. Poland… the list goes on.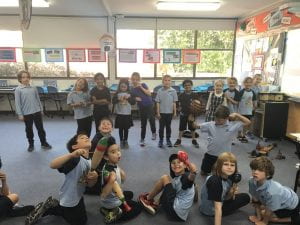 Years 3&4
We have had a lovely start to the term and are working on our ukulele skills. Students will be building up to playing a song with 3 to 4 chords and have learnt how to hold a ukulele and various components.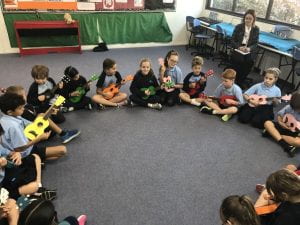 Years 5&6
Students have been cast in the play. Auditions were taken very seriously and were of an incredibly high standard. It was lovely to see so many students in different roles. Students will read through the play in week 3- they will all have to learn their lines and I will assist with this. Please support at home as much as you can without risk of spoiling the story for you all in August!
I am sure students will have a great week in Canberra and I look forward to hearing all about it.
Choir
Choir continues at a changed time on Wednesday lunchtime at 1.15-1.45 to accommodate all sports and other morning activities.